COVID-19 UPDATE
At Pediatric Ear, Nose, and Throat of Atlanta, we are closely monitoring the updates from the World Health Organization (WHO), Centers for Disease Control and Prevention (CDC), and the Georgia Department of Health, related to the COVID-19 outbreak.
We are adhering to the recommendations from the CDC to protect our patients, staff, and the community and have implemented several additional measures in our work environment.
What we are doing in our office
As to our practice of medicine, there are three very important points.
First and foremost, we have discussed the outbreak with our staff and we want you to know that the patient's well being is our number one consideration and that the use of standard precautions keeps everyone safe.
Second, we have reviewed our Standard Precautions guidelines with our staff and we are making sure that they are being followed.
Finally, practicing these precautions is a routine part of our practice and that our precautions are in compliance with CDC guidelines. Everyone's health and safety are of the utmost importance to us.
Travel and exposure screenings: We will screen patients and families for travel and possible exposure.
Respiratory precautions: We have temporarily stopped seeing patients with fevers and those with significant respiratory symptoms in the office. We are only allowing one person and one child back to the room with the patient.
Disinfection: We disinfect our waiting areas hourly, and patient rooms are disinfected per our medical protocol, after each visit.
Waiting procedures: You may see changes in routines at our offices, waiting in your car or the hallway until we are ready to see your child.
New ways of delivering care: We are working in supporting telehealth and telemedicine technologies to continue providing care in the safest way possible.
Please be patient with us as our telephone staff is experiencing increasing call volumes, causing more than usual wait times.
Pediatric ENT of Atlanta, PC.
Coronavirus
It seems like every few years, a new coronavirus pops up and causes some media attention. Such was the case with the 2002 Severe Acute Respiratory Syndrome (SARS) Coronavirus and the 2012 Middle East Respiratory Syndrome (MERS) Coronavirus.
According to the Centers for Disease Control and Prevention (CDC), coronaviruses usually come from animal sources such as bats and camels. Sometimes these coronaviruses cross from animals to humans, such as the previously mentioned SARS and MERS viruses, as well as the new 2019 Novel Coronavirus (COVID-19). The COVID-19 seems to be in the news daily and has been discussed by people everywhere. d.
The CDC notes that the medical community has been doing a very good job of protecting our patients via state-of-the-art infection control practices. The use of personal protective equipment (PPE) including masks, gloves, protective eyewear, and gowns has led to better protection for our staff and patients. Our use of disinfectants, up-to-date sterilization practices, dedicated handwashing, and one-time-use disposable materials also have all helped facilitate safe medical visits for our patients. All of these practices have been the backbone of the CDC's Standard Precautions.
A Look at the Virus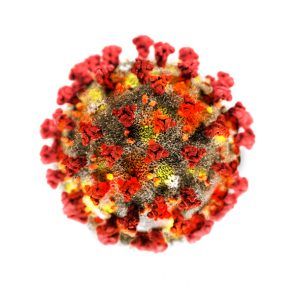 According to the CDC, symptoms of COVID-19 can include fever, cough, and shortness of breath. These symptoms can appear two to 14 days after exposure. The current transmission of COVID-19 seems to be from ill people to those around them. The apparent spread of the virus is by respiratory droplets produced by sick people when they cough or sneeze.
It is interesting to note that the timing of this outbreak matches the seasonal flu, which can also present with the same symptoms and be a confounder in proper diagnosis. Fortunately, the properly performed Standard Precautions are effective against such viruses. Three keys can help clinicians preliminarily differentiate whether a patient has COVID-19 and not the flu:
Close contact with a person who is under investigation for COVID-19.
Close contact with an ill laboratory-confirmed COVID-19 patient.
So what can medical practitioners and the general public do to protect themselves from COVID-19? The CDC has recommendations for the general public, such as:
Wash your hands often with soap and water for at least 20 seconds. Use an alcohol-based hand sanitizer that contains at least 60% alcohol if soap and water are not available. (These recommendations already are part of our Standard Precautions.)
Avoid touching your eyes, nose, and mouth with unwashed hands.
Avoid close contact with people who are sick.
Stay home when you are sick.
Cover your cough or sneeze with a tissue, throw the tissue in the trash, and then wash your hands.
Clean and disinfect frequently touched objects and surfaces.

Appointments: (404) 255-2033
Office Hours: Mon-Friday 8 pm to 5 pm